The Prime Minister of the Republic of Slovenia, Mr Janez Janša, this evening transferred the office's duties to the incoming Prime Minister, Mr Borut Pahor. Mr Janša also took the opportunity to give Prime Minister Pahor a report on the Republic of Slovenia's activities during the 2004–2008 period and wished him much success in his work.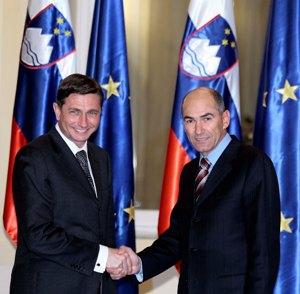 (Photo: Kristina Kosec/Bobo)

Former Prime Minister Janša thanked the current members of the Government and those who work with it, who have shouldered a heavy burden, including the challenge of EU leadership. He said they were leaving to the new Government a solid foundation with proven results. "Around 80% of what was planned was also implemented," Mr Janša said. "We will be glad if at the end of this term of office, beginning today, the results are comparable with the achievements of these past four years."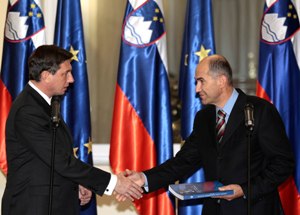 (Photo: Kristina Kosec/Bobo)
Incoming Prime Minister Pahor thanked former Prime Minister Janša for his work and for the constructive cooperation in the period between the elections and the formation of the new Government, as well as for accepting the invitation to reflect on the partnership for development.