The Prime Minister of the Republic of Slovenia, Janez Janša, today congratulated Barack Obama on his election as the 44th president of the United States of America. On this occasion, the Slovenian Prime Minister highlighted the excellent relations between the two countries, which were further strengthened during the Slovenian EU Council Presidency and the EU-US Summit meeting held in Slovenia.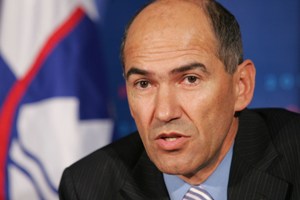 (Photo: Kristina Kosec/Bobo)
"In Slovenia, we attach great importance to the continuation of friendly and close cooperation in the future," wrote Prime Minister Janša.
"At this time, when we face the serious and complex challenges of the world economy and new forms of global threats, vision and courage are needed more than ever before. In this regard, the president of the United States of America has a special responsibility which goes beyond national frameworks and affects the entire world. We are convinced that we can meet contemporary challenges to the benefit of both the Transatlantic Alliance and the world as a whole by enhancing cooperation between the European Union and the United States of America," added Prime Minister Janša in his letter to the future American president.