The Prime Minister of the Republic of Slovenia, Mr Janez Janša, had a meeting today with the President of the Republic of Poland, Mr Lech Kaczyński, who is paying an official visit to Slovenia.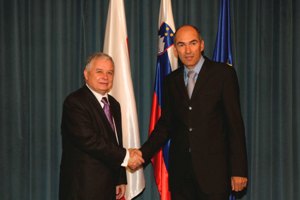 (Photo: Srdjan Živulovič/Bobo)
The presidents made a positive assessment of the development of bilateral relations between the two countries, where there are no open issues to be addressed. Prime Minister Janša expressed his thanks to President Kaczyński for the Polish support provided to Slovenia during the Slovenian EU Council Presidency in the first half of this year. At Mr Kaczyński's request, PM Janez Janša presented Slovenia's experience with the introduction of the euro.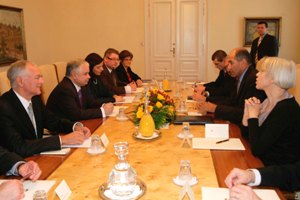 (Photo: Srdjan Živulovič/Bobo)
Prime Minister Janša and President Kaczyński focused primarily on the current situation in financial markets in light of tomorrow's emergency summit of the European Council in Brussels. They agreed that the response of the international community must be prompt and coordinated, and the European Union must act unanimously.