The Prime Minister of the Republic of Slovenia, Janez Janša, today received a letter from the President of the French Republic and current President of the European Council, Nicolas Sarkozy, stating that the Chairman of the Reflection Group and former Prime Minister of Spain, Felipe González, has approved the appointment of Dr Žiga Turk as Secretary-General of the Reflection Group.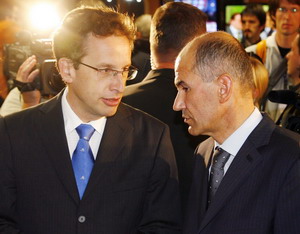 Prime Minister Janez Janša and Minister for Growth prof. dr. Žiga Turk (Foto. Srdjan Živulović/Bobo)
The Reflection Group has been tasked with reflecting on the future of Europe and the challenges it will face in the period 2020–2030. As President Sarkozy wrote in his letter, in his capacity as Secretary-General of the Reflection Group, under the leadership of the Group's Chairman and two Vice-Chairmen, Dr Turk will head the team responsible for preparing the work of the Group and providing support to its members.