"Three months ago, when Slovenia joined the single European area of free movement of people and capital in part, we held our first celebration. Today, we held a second and final one," said the Prime Minister of the Republic of Slovenia and President of the European Council, Janez Janša, at today's formal celebration of the abolition of internal air border controls and the definitive entry of the Republic of Slovenia into the Schengen area.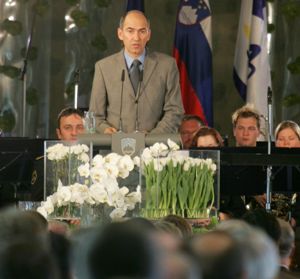 (Photo: Kristina Kosec/Bobo)
The Prime Minister stressed that the recently-abandoned border police, police and customs posts today seemed like an anachronism, archaeological skeletons from the not so very distant past, and represented a monument to the lost opportunities of earlier generations. The history of Ljubljana Jože Pučnik Airport symbolises, he said, some tragic historic aspects of the transition from totalitarianism to democracy. "In 1991, right here, Peter Petrič, a brave member of the Slovenian Territorial Defence, lost his life defending the airport against a tank unit of the Yugoslav Army. That same year, two journalists, Nikolas Vogel and Norbert Werner, were killed on the airport runway by shots fired by the Yugoslav Army. In June 1991, the airport itself also suffered a destructive attack by the Yugoslav Army's air forces," observed the Prime Minister.
"Today when, here in Slovenia, we are celebrating the final act of several countries joining the Schengen area of free movement of people, I would like to extend my thanks to all the members of the Slovenian Territorial Defence and police officers who, in 1991, defended or took back land, air and maritime border crossing points," said PM Janša, adding that seventeen years ago, the defenders and liberators of border crossing points had enabled decisions to be taken that paved the way for Slovenia to join the democratic family of European nations.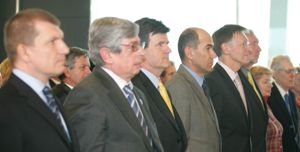 (Photo: Kristina Kosec/Bobo)
As PM Janez Janša said, the final act is being performed today – the abolition of internal air border checks. "The principle of abolishing internal borders does not mean, as some feared, less security for the citizens of the countries that are members of the Schengen group. Quite the contrary, statistics show that there is greater legal certainty since we have been part of the Schengen Information System," he said. He declared that, as of today, all the elements of the single Schengen area – one of the foundations of freedom, cooperation and progress in the European Union – were finally in place.

Speech by the Prime Minister