The Prime Minister of the Republic of Slovenia, Mr Janez Janša, today received Slovenia's national team that will participate in the 13th Paralympic Games to be held in Beijing in September. In his address, the Prime Minister said that the Paralympics represented a great challenge for athletes in terms of testing their physical endurance, which very often borders on the impossible; he also highlighted the achievements of Slovenian athletes at the Paralympic Games.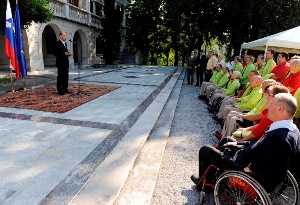 (Photo: Nebojša Tejić/Salomon 2000)
"Every elite sport involves much sacrifice and numerous obstacles that must be overcome if good results are to be achieved. There is a great deal more sacrifice and obstacles for the athletes competing in the Paralympics than for other top athletes. This is why you have set an example for us all. Your immense love of sport, your efforts and hard work are the mark of true greatness," said the Prime Minister, going on to add that every sporting event at the Paralympic Games is also a testimony to the strength of the human spirit, human will and dedication. "It is also an incentive for us all, teaching us how despair and the inability to be master of one's own destiny can be changed to one's strength as well as advantage," said the Prime Minister.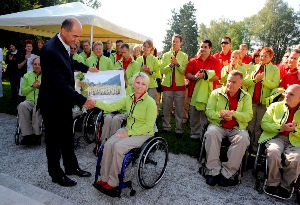 (Photo: Nebojša Tejić/Salomon 2000)
It is a pity, according to the Prime Minister, that the Paralympic Games attract less media attention than the Olympic Games. The achievements made by Paralympic athletes, however, are no less important for Slovenia. "We have therefore decided to reward medallists of the Olympic and Paralympic Games on an equal footing," concluded the Prime Minister. He wished the athletes, their coaches and accompanying personnel every success in the Paralympic Games.